RailWire, Government of india owned ISP that provide FTTH connection through Cable TV operators have come up with new boardband plans for 2018.
Unlike previous plan, new plan offers lot of bandwidth for every plan. This help with Indias new media consumption started by Reliance JIO. Previous Maximum speed available was 100 Mbps. New maximum is 200 Mbps.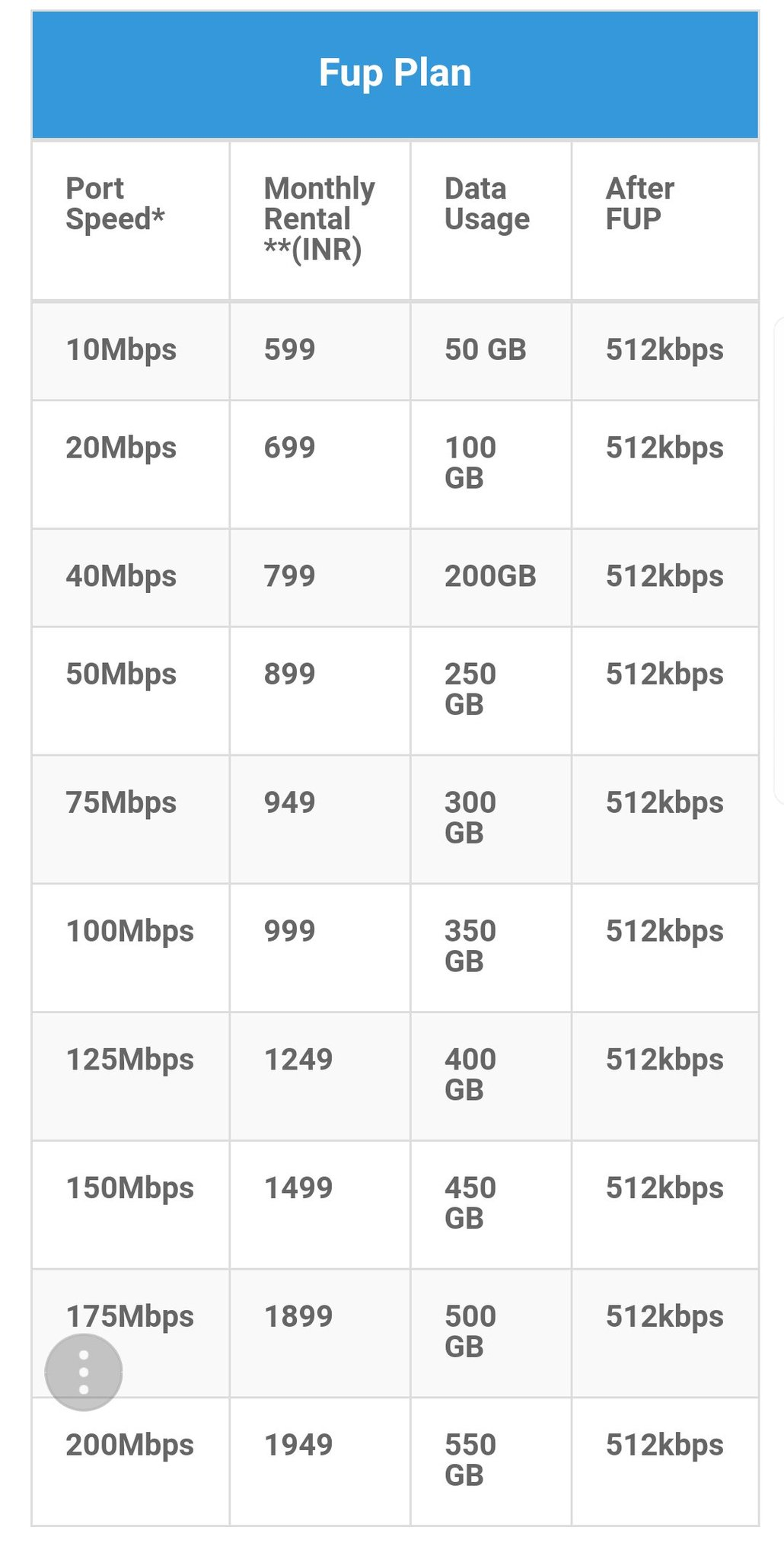 These new plans are not yet updated on RailWire web site, but many have reported new customers are getting these plans. My plan just got changed from 20 Mbps to 75 Mbps, 300 GB per month data transfer with same price as before.
Reliance JIO made indians internet usage explode with very generous 4G mobile plans that give 1.5 GB data per day with free NetFlix like media service JioCinema and lot of Free TV Channels using JioTV Live TV App. These media services make any none internet users addicted to internet and data, they never able to live Reliance JIO even if they wanted.
With Reliance JIO coming with with FTTH service with many part of the country, RailWire may be doing their part to keep their customers happy.
new and old railwire plans are
Old plan New FUB Data Plane Afther Speed Without TAX 18% tax
2Mbps 10gb 10Mbps 50gb port speed 512Kbps Rs. 599 706.82/-
2Mbps 20gb 20Mbps 100gb port speed 512Kbps Rs. 699 824.82/-
4Mbps 40gb 40Mbps 200gb port speed 512Kbps Rs. 799 942.82/-
10Mbps 80gb 50Mbps 250gb port speed 512Kbps Rs. 899 1060.82/
20Mbps 100g 75Mbps 300gb port speed 512Kbps Rs. 949 1119.82/-
40Mbps 60gb 100Mbps 350gb port speed 512Kbps Rs. 999 1178.82/-
60Mbps 100g 125Mbps 400gb port speed 512Kbps Rs. 1,249 1473.82/-
80Mbps 130g 150Mbps 450gb port speed 512Kbps Rs. 1,499 1768.82/-
90Mbps 100g 175Mbps 500gb port speed 512Kbps Rs. 1,899 2240.82/-
100Mbp 210g 200Mbps 550gb port speed 512Kbps Rs. 1,949 2299.82/
These new plans make more internet services available in India.
Indian Gamers will have good time with local game servers, so far they have to use Singapore, Europe or US servers to play games, that cause high lag in games with response time is critical to success.
Online backup services will get more popular. I have 3 hard disks in my computer for backing up data because i don't want to waste any of my bandwidth, with 75 Mbps or 100 Mbps connection, i may start using cloud backup services for backing up some of my data.
Here is speed test on my 75 Mbps connection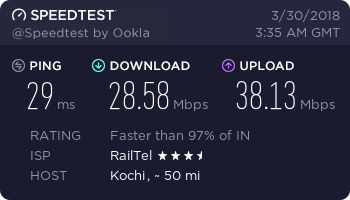 Next month i may switch to 100 Mbps plan as price difference is very small (INR 59) even though it won't make any difference in normal usage.
I switch from BSNL to RailWire nearly a year ago. BSNL speed was 2 Mbps, they have very low FUP limit of 20 GB per month.
http://www.bsnl.co.in/opencms/bsnl/BSNL/services/broadband/BB_plans_less_speed.html
Even now they don't change the plans. For INR 945, you get 10 Mbps speed until 20 GB FUP Limit, then speed goes down to 2 Mbps. Problem with BSNL for me was not speed, it was frequent down time due to cable problems as they use DSL and the cable are very old break multiple times a month and it take days for them to find the fault and fix it.